LITERALLY THE BIGGEST FUCK YOU BY THE WRITERS IN THE HISTORY OF SHIPPING.

do you really want to go there

EXCUSE ME
Sorry (Although Leon and Sora, hell yeah) 
A PARALLEL
Kaleido Star // The Hunchback of Notre Dame
Naive dancer
Sora is idealistic, happy, carefree girl of modest means with an artistic talent and aura that makes her performances bring all sorts of emotions for those who watches. She is also seen as an outsider (Although Sora was truly a foreign and Esmeralda wasn't, since she was stolen by gypsies as a baby, but born from french parents. But guess what: Sora was also adopted, by her father's cousin and wife, since her parents died).
Three different men in love with her in three different ways
Leon is the haughty ice king feeling for the first time in a long time something strong for someone other than his sibling. He falls in love towards an idealistic, full of life young woman that defies everything he is. He hates and fights against what he feels.
Claude Frollo, anyone?
Ken is an all loyal, even if she only will ever see him as a friend.
Our Quasi wasn't so lucky to be born with that face.
Yuri seems like a Prince Charming, but is actually a jerk ass. He may think the girl is a cutie and wants a piece of her, but he is not willing to lift a finger for her. Guess who hates him the most! Leon. Also, pretty boy's official partner was Layla, blue-eyed, blonde, wealthy girl, and she treats Sora with spite and contempt from their first meeting. They are provided rivals several times along the Show.
Phoebus and Fleur-de-Lis/Esmeralda feelings. Of course, they are just feelings. Layla wasn't in love with Yuri and developed a great relation with Sora, even when they are rivals for the stage. Also, Yuri sentiments for Sora in the first season were never made clear, although a lot of ship tease can be found.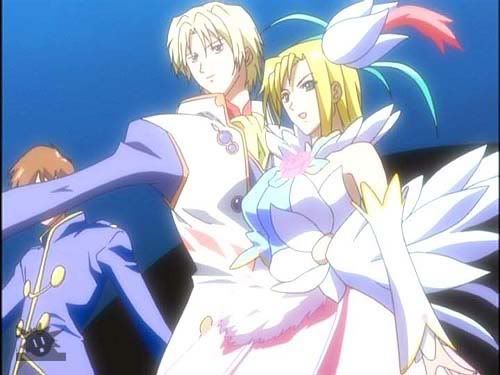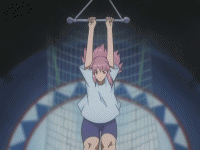 Anyway, if Love Triangles are for amateurs and what you search for is a Love Dodecahedron towards one single woman, well, these are the things for you. I would also recommend: The Guarani (Book, a condensed version. The original can be grueling) and Blood Plus (Anime).
NOTE: I plan to post about each of them soon.
Finished the second season of Kaleido Star today. Those last two episodes, yo. The animation, the feelings… so good. And it's always nice to see a shojo series that doesn't involve any romance and is all about fulfilling your dreams and finding your motivation.

Every time I rewatch Kaleido Star (every two or three years) it makes me wonder how I could forget about it. It's a lot of fluff and melodrama, so I remember more the way it makes me feel rather than any specific event. There are some awesome events though, and it's so satisfying seeing Sora's constant struggles and hard work pay off. It kind of makes me wish I had goals or something…

Up next: Taking a break from anime for a bit. My stack of unread books is growing higher, so I'll try to knock some of those out on the bus instead. Might write a little about that, but I'm thinking about writing about the various podcasts I listen to at work. Those will be a bit more review-y/descriptive-y, and include some choice episodes for y'all to sample. Because you should be listening to podcasts.
Agree. Kaleido Star has some awesome events, but it is more about the feelings he brings to you. And it's pretty cool that there are just two official ships in it and they are barely spoken (Ken/Sora and Kalos/Sarah). You should watch Ashita no Nadja. It's shoujo, but it's more about the heroine's adventures and development.
Despite I admire the lack of ships, Leon and Sora…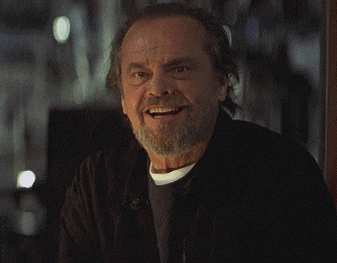 I'm sorry, but why isn't Jaime x Cersei listed in TV Tropes as Destructive Romance and Roaring Rampage of Romance? Damm, this whole civil war wouldn't be rolling if Cersei didn't decide she didn't want any son with Robert, only her brother's babies.
Somebody please edit this, because I have no idea how to! '~'
Just so everyone knows, today is my birthday! X3
Dreaming of Another World, Guinevere van Seenus by Tim Walker for Vogue Italia March 2011
Lady Stoneheart kills Littlefinger. 
My bets are on Catelyn killing him, because I think that would be the most cruel way for Littlefinger to go. Sansa only matters emotionally to him because she reminds him of Cat and, I imagine, to a lesser instance for being so idealistic and dreamy as he was. She as his killer wouldn't be as hard for him as Catelyn herself, returning as an undead because of his actions, which started the war that killed her. It's like, "See what you did with the person you loved the most before the end!"
Also, the similarity with Wuthering Heights is too strong to be coincidental and ignored.